Regional School Board appoints Dr. Lisa Williams as MW's next Assistant Director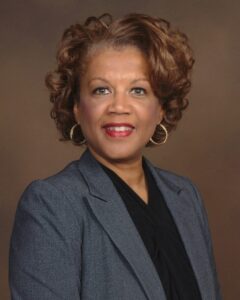 The Maggie Walker Governor's School Regional Board appointed Lisa Williams, Ed.D. as the next Assistant Director of the school at their meeting today, May 20th. Dr. Williams steps into the position currently held by retiring administrator Dr. Wendy Ellis on July 1st.
"The RSB would like to congratulate Dr. Williams for being selected as Assistant Director," said Board Chair John Wright. "Her selection will be a great comfort to MLWGS staff and students since she is so well known and respected already. While we will miss Dr. Ellis and want to take the time to thank her for her service to the MLWGS community, we are also excited to bring Dr. Williams' perspective and skill set to the table. We are confident Dr. Williams will provide the leadership necessary to continue to move MLWGS forward for years to come."
Dr. Williams has worked at Maggie Walker Governor's School since August 2008 as an English teacher. During her tenure, she has also served as the English Department Chair for ten years. Longevity as an educator and as a member of the leadership team at MLWGS has proven to be invaluable. " I understand the rich culture of the school – the academic rigor, the commitment to excellence, and the overarching goal of equipping our students with a sustainable and wide-ranging skillset, not only for college but for life," said Dr. Williams.
Maggie Walker Director, Dr. Robert Lowerre shared his support of this appointment stating, "Dr. Lisa Williams has served the Maggie L. Walker Governor's School learning community for many years. She has led the English Department and served as a strong advocate for children. Her experience and skills will be a great addition to our administrative team and I am sincerely looking forward to working with her in her new role."
The board knows Dr. Williams to be a hard worker, a visionary, and also a lifelong learner. She holds a master's degree in fine arts, obtained an endorsement in gifted education, earned a certificate in K-12 administration and supervision, achieved National Board Renewal, and earned a doctoral degree in educational leadership.
Dr. Williams has been personally and professionally inspired by the life and legacy of the school's namesake, whom she describes as "a trailblazer and a shining example of servant leadership." Dr. Williams aspires to cultivate that spirit of excellence and service, as she is both "excited and humbled" by her new position.
---