Regional School Board Approves FY20 MLWGS Operating Budget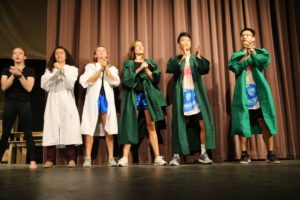 The Maggie L. Walker Governor's School Regional Board unanimously approved at its April 18 meeting, an $8,772,479 budget for FY20 (2019-2020 school year) that boosts teacher and staff salaries by 3.0 percent – the largest raise in many years.
The budget supports a modest budget increase to address the needs of the school as requested by Dr. Robert Lowerre, Director. However, funding for capital projects continues to be challenging.
The budget reflects an overall increase in operating-fund revenue of about 2.4 percent, or about $212,033. Regional School Board Chair Mrs. Sarah Barber, New Kent, thanked the school administration for putting together a responsible budget for FY20.
Other key elements of the school board's budget which begin on July 1, include:
Increases spending on Instructional Service Contracts, Building Service Contracts, Repair/Maintenance Equipment, Textbooks, and Technology.
Reduces spending on Long-Term Disability Insurance, Non-Professional Consultants, Insurance, Custodial Supplies, Building Reserves, and Classroom Furniture.
Student enrollment: 756 students (+3 from FY19).
Renovations/Upgrades: The budget includes funding to upgrade the school phone system which will add to the safety and security of our students. Additional projects may include repairing the gym roof as well as re-thinking how we use and equip our computer labs.
---