Relevance Rising students at MLWGS will travel to Guatemala over spring break to provide services to the village of Tzununá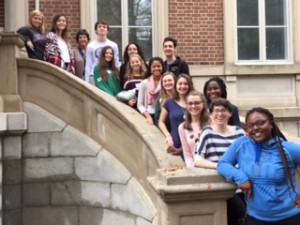 Relevance Rising (RR) is a class dedicated to the study of non-profit organizations and has been involved with an international service project for the community center and library of Tzununá, Guatemala for several years. Through this project, students learn to develop understanding and the skills necessary to interact with peoples of a different culture. In September 2015, the current class began fundraising with bake sales, coin drives, door decorating, salsa sales, etc., with all proceeds going to support the Tzununá library project. This year students will take with them in late March over $4,500 in donations. This marks the class's fifth trip to the region and a total over the years of contributions of approximately $20,000 in monies and materials. Their donations have covered the cost of land to house the library, engineer and architect designs, building materials and various resources such as computers to be used by the children of the village. However, the project is still $10,000 short to complete the roof.
"This project has a giant impact on the local community where students typically drop out of school after sixth grade in order to provide additional income for their families," said Stephanie Welles, class instructor and trip sponsor.  She added, "The most rewarding moment of this experience is when you watch students, almost in an instant, break down all barriers that one would think exists between socio-economic cultures and language by simply opening a book and reading together."
In addition, the students act as teachers of English and ambassadors of the United States. They interact through language instruction, crafts, arts, and song, all in hopes of inspiring the children to view the library as an extension of their education and to lay a foundation that will end the cycle of poverty. Ellie Palazzolo, an RR student from 2014-2015, stated; "The opportunity to travel to Guatemala last spring was the most eye-opening, invigorating, and formative experience that I had during my time at Maggie Walker. The chance to engage in the culture, history, and landscape of the country was incredible. Volunteering in Tzununá allowed my classmates and me to interact personally with primary school aged students and witness some of the challenges that communities face with regards to education and development. Almost a year later, I continue to be so grateful for the time I was able to spend in Guatemala and the increased awareness that I now have as a result thereof."
Trip expenses are funded by the MLWGS students themselves, along with the gracious help and support of the Governor's School Foundation.
To contribute to this effort, donations can be made at gofundme.com/relevancerising16 or checks can be sent payable to MLWGS, Attention Stephanie Welles, 1000 N. Lombardy St., Richmond, VA  23220.
---