Results for Maggie Walker Forensics and Debate Teams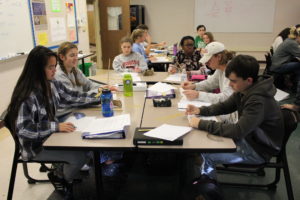 Congratulations to the Maggie Walker Forensics and Debate Teams on a stellar performance at the VCFL tournament in Louisa this past weekend. The V.C.F.L. is a speech and debate league under the auspices of the National Catholic Forensic League.
http://www.ncfl.org
In Extemporaneous Speaking, Joey Mistretta earned a 1st place finish.
In Public Forum, Ria Bakshi and Shreya Malani took 2nd place, April Smith and Isabelle deBruler took 3rd place, Diya Ram Mohan and Sarah Townsend took 4th place, and Ethan Ringer and John Staley finished in 5th place.
In Lincoln Douglass, Varun Mangdi won 2nd place and Tejas Muthusamy took 4th place.
Special congratulations to the Debate team who won sweeps! Good job, Dragons.
---