Senior Art Exhibition opening June 4th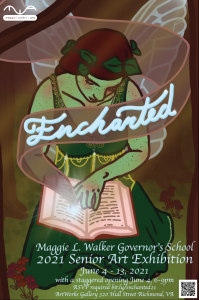 Please join us for the gala opening of the 2021 MLWGS Senior Art Exhibition: Enchanted at Artworks Gallery on Friday, June 4th from 6-9 PM. The show, which is the capstone event of our visual arts program, will highlight the collected works of 13 Maggie Walker seniors including Emma Lindley, Elizabeth Celentano, Azaria Mosby, Cooper Tsow, Ria Bakshi, Rylan Karjane, Shreya Malani, Ada Rigsby, Isabel Martin, Julianne Zielinski, Anika Kalluri, Grace Saunders, and Helen Hall. Come meet these amazing young artists and mingle with other Maggie Walker art lovers.
Due to COVID restrictions, there will be a staggered opening. Therefore, you must RSVP to attend the opening using the link bit.ly/enchanted21 Artworks Gallery is located at 320 Hull Street, RVA 23224 in the Manchester area of downtown Richmond.
The show will continue through June 13th.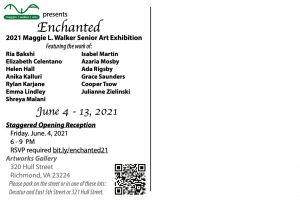 ---