The Mech Tech Dragons will be participating in the FIRST Chesapeake district championship this week (Wed-Sat April 10-13)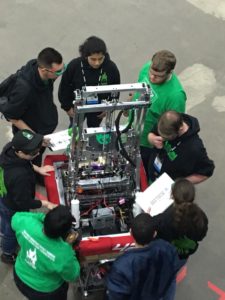 There will be live stream access to the matches on Thursday, Friday and Saturday.
You can follow with the matches at The Blue Alliance (https://www.thebluealliance.com/event/2019chcmp)
and access event information and field stream links https://www.firstchesapeake.org/first-programs/frc/first-chesapeake-district-events/first-chesapeake-district-championship
Week 7 – Championship – firstchesapeake.org
Event Description: Free and open to the public. Fifty-eight of the best and brightest high school robotics teams will be competing in this two-day event. Cheer on your favorite team or learn more about bringing FIRST Robotics Programs to your community. FIRST Robotics Competition is recognized as the premier high school engineering challenge.
Good luck to the students that will be attending this competition:
1 Mason McCray
2 Nathan Hayes
3 Lydia Thesier
4 Margaret Earnest
5 Gayatri Tyagi
6 Ankit Agrawal
7 Kate Driebe
8 Chris Earnest
9 Mira Eisenhauer
10 Zachary Fee
11 Hailey Hall
12 Ryan Harris
13 Josie Holland
14 Jayla Johnson
15 Justin Jones
16 Ryan Kaplan
17 Quinn Kast
18 Grace Kemmerly
19 Eli Kin
20 Shreya Malani
21 Som Mohapatra
22 Kiera O'Flynn
23 Anthony Paiva
24 Amanda Perez
25 Dennis Plotnikov
26 Sarah Pudwill
27 Devam Purohit
28 Shivram Ramkumar
29 Sanjiv Rao
30 Cora Ritchie
31 Ajay Srinivasan
32 Amar Srinivasan
33 Jessie Steadman
34 Raina Tian
35 Raghav Venkataramani
36 Connor Webb
37 Noah Welenteychik
38 Daniel Xue
---