The MLWGS FY21 Operating Budget Proposal is Open for Public Comment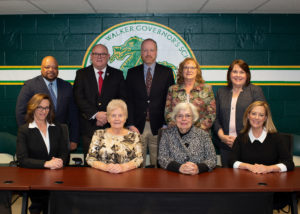 The 2020 Regional School Board: Front-row L-R, Sarah Barber (New Kent), Harwood Hall (King & Queen), Linda Hyslop (Hopewell) and Debbie Bailey (Chesterfield)
Back-row L-R, Kenneth Pritchett (Petersburg), John Axselle (Hanover), John Wright-Vice Chair (Goochland), Jill Andrews (Prince George) and Micky Ogburn-Chair (Henrico)
The Regional School Board is accepting input via online comments on the FY21 MLWGS proposed operating budget.
A public hearing on the proposed FY21 operating budget will be held on March 19, 2020, during the Regional School Board (RSB) meeting with approval projected on April 16, 2020. Members of the Maggie L. Walker Governor's School community who are unable to attend are invited to provide comments to the RSB on the proposed operating budget using this form by March 16, 2020. Comments should pertain to the FY21 operating budget proposal; inappropriate content will be deleted.
Visit here to view the proposal. Use this form for comment.
---