Virginia History Day Competition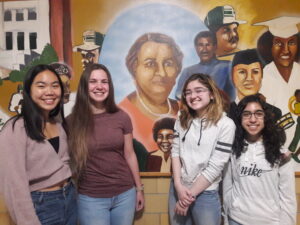 Left to right: Joanne Lin ('23-Chesterfield), Jordyn Krajewski ('23-Chesterfield) , Drew Rivas ('23-Chesterfield ), and Ally Lichtman ('25-Henrico)
Fresh off their placements in the district competition in February, the National History Day Club, sponsored by Dr. Christine Anderson, competed at the Virginia History Day state competition on Sunday, April 24, 2022. The theme this year was Debate and Diplomacy in History: Successes, Failures, Consequences and all submissions explored this complex theme, while also highlighting the importance of diversity of perspective, race, gender, sexual orientation, and disability.
Joanne Lin's paper, "Roe V. Wade: A Symbol of Proliferating American Crisis in Debate and Diplomacy," and Drew Rivas' paper "From the Mattachine to Stonewall: How Diplomacy Failed the American Gay Rights Movement" competed in the Senior Paper category. Jordyn Krajewski's "933," completed in the Senior Group Documentary, and Ally Lichtman's "Alpha for the Beta: How Ida B. Wells and the Alpha Suffrage Club Bettered the Fight for Enfranchisement at the Intersection of Race and Gender" competed in the Senior Individual Website category and placed first. Drew Rivas received the Diversity Richmond and Virginia Pride LGBTQ+ History award and Jordyn Krajewski won the John Marshall Center Prize for Political History and Civics award. Ally Lichtman will move onto the national competition held virtually between June 12 and June 18, 2022.
Congratulations to all participants!
---