The Regional School Board of the Maggie L. Walker Governor's School for Government and International Studies is composed of one school board member from each participating school district. Its primary purpose is to set policy which guides the Maggie L. Walker Governor's School and represent and interpret the objectives, goals, programs, and needs of the Maggie L. Walker Governor's School.
Newest member of MLWGS starting 2021-2022 is Colonial Heights Public Schools.
Regional Board Calendar 2020 Code of Conduct for the Regional Board
2020-2021 Regional School Board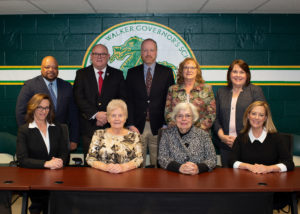 L-R Back Row: Pritchett, Axselle, Wright, Andrews, and Ogburn
L-R Front Row: Barber, Hall, Hyslop, and Bailey
Mr. John D. Wright* (Vice-Chair), Goochland County Schools
Ms. Harwood Hall*, King and Queen Schools
Mr. John Axselle, III, Hanover County Schools
Mrs. Valarie Ayers, Powhatan County Schools
Ms. Sarah Grier Barber*, New Kent County Schools
Mr. Royce Paige, Charles City County Schools
Mr. J. Scott Barlow, City of Richmond Schools
Ms. Linda Hyslop, Hopewell Public Schools
Mrs. Michelle Ogburn* (Chair), Henrico County Schools
Mr. Kenneth Pritchett*, City of Petersburg Schools
Ms. Debbie Bailey, Chesterfield County Schools
Ms. Jill Andrews, Prince George County Schools
* Executive Board Member
2020-2021 Superintendents Steering Committee
The Steering Committee is composed of the Division Superintendent of each participating
school district or the superintendent's duly appointed designee.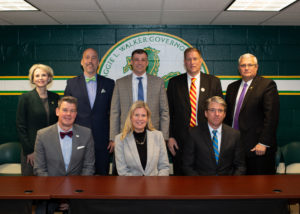 L-R Back Row: Pennycuff, Nichols, Gill, Raley, and Daugherty
L-R Front Row: Gaston, Cashwell, and Jones
Mr. Jason Kamras, Superintendent of City of Richmond Schools
Dr. Lisa Pennycuff, Superintendent of Prince George County Schools
Dr. Dalphine Joppy, Superintendent of Charles City County Schools
Dr. Melody Hackney, Superintendent of Hopewell Public Schools
Dr. Eric L. Jones, Superintendent of Powhatan County Schools
Dr. Carol B. Carter, Superintendent of King and Queen Schools
Dr. Amy Cashwell (Chair), Superintendent of Henrico County Schools
Dr. Jeremy Raley (Vice-Chair), Superintendent of Goochland County Schools
Dr. Maria Pitre-Martin, Superintendent of City of Petersburg Schools
Dr. Mervin B. Daugherty, Superintendent of Chesterfield County Schools
Mr. Brian Nichols, Superintendent of New Kent County Schools
Dr. Michael B. Gill, Superintendent of Hanover County Schools