Celebrating Hispanic American Heritage Month at MLWGS, Sep 15th – Oct 15th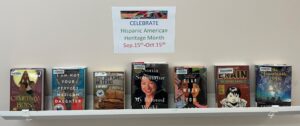 Please join the MLWGS Library in celebrating Hispanic American Heritage Month which begins this Wednesday, Sep. 15th and continues until Oct. 15th.
The start date, Sep. 15th, is significant because on Sep. 15, 1821, Guatemala, Honduras, Costa Rica, El Salvador, and Nicaragua gained independence from the Spanish; the monthlong celebration also encompasses the independence days of Mexico (Sep. 16, 1810), Chile (Sep. 18, 1810), and Belize (Sep. 21, 1981). Source: History.com
In 1821, the news of independence was relayed by riders on horseback, taking a month to reach Costa Rica from Guatemala, an event still marked by an annual torch relay that concludes in Costa Rica.
Here's the official hub for a wide array of resources (see highlights on home page and menu across top): https://www.hispanicheritagemonth.gov/
Since Latinx Americans have long enriched our RVA community, you'll find many local ways to celebrate:
The MLWGS Library has relevant books, movies, and CD's. In addition to titles highlighted in the photo below, you'll find fiction, poetry, and books about Latinx American history on the second portion of the display which is located near Ms. DeGroat's office.
---