Congratulations Mary Caroline Heinen – 2020 Lexus of Richmond Leadership Award Winner!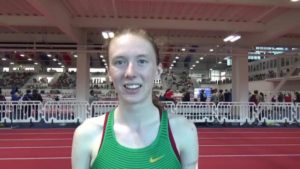 Mary Caroline Heinen from Maggie Walker Governor's School has been named as this year's Lexus of Richmond Leadership Award winner. She was chosen from among 30 amazing candidates chosen as weekly scholar-athlete winners. In celebration of the 25th year of this program, she will receive a $25,000 scholarship from Lexus of Richmond.
Mary Caroline has excelled in athletics and in the classroom. She has won 11 individual state titles including three Cross Country championships. She has also won three Junior Olympic National cross country titles and has been the Richmond Times-Dispatch girls cross country runner of the year three times. The other state championships were in indoor and outdoor track and she holds at least 5 school records.
In the classroom, she has earned a 4.64 GPA, scored 1540 on her SAT and is in 6 honor societies. She won several other academic awards. As a junior, her 5-member team came in 3rd nationally in the Math Modeling the Future competition in Chicago. In addition, Mary Caroline served as a student ambassador at Maggie Walker and was a VCU fellow in the NanoNucleur Engineering lab. Plus, for 5 years she has served as a volunteer at the Little Sisters of the Poor, reading to the elderly along with other duties.
Mary Caroline will attend Columbia in the fall where she will run cross country and study mechanical engineering. She hopes one day to be an engineer for an athletic apparel company.
The Lexus of Richmond leadership award program honors student-athletes from around the metro who excel in athletics, academics, extra-curricular activities, and community service.
---