Dragons win for 3rd year in a row in Phoenix at SABR Analytics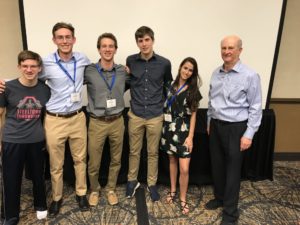 The SABR Analytics Diamond Dollars Case Competition pits students from colleges across the country against each other in an analytic major league baseball operations decision — the type of decision a team's general manager and staff face over the course of a season. The teams presented their analysis and recommendations to a panel of judges that included MLB front office executives on Friday, March 8, in Phoenix, AZ.
In this year's competition, twenty teams were asked to determine the best way to utilize the pitching staff of a major league team. The winning MLWGS team used higher-level mathematics to create a simulation to determine its solution. One of the judges commented that our team did a better job of explaining Nonlinear Programming than his professor did in graduate school. The competition divided teams into four divisions, and the Maggie Walker team took first place in their division, defeating teams from St. Joseph's University, St. John Fisher College and two teams from Syracuse University.
By winning the college-level SABR Analytics Competition again this year, MLWGS – still the only high school ever to compete in this program – is now the first school to boast winning teams in three straight years. Only one other school (Washington University in St. Louis) has equaled the feat of winning three times. Our winning team consists of Tom Blue ('19), Creed Crabtree ('19), Nicolas Ferree ('19), Dominic Gammino ('19) and Maya Qureshi ('19).
Congratulations to Mr. Benesh, team sponsor, for your dedication to this program.
---