Graduation: Friday, June 14th, 3:00 p.m., Altria Theater, 6 N. Laurel Street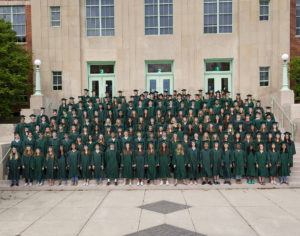 Graduates must arrive at the downstairs ballroom by 2:00 p.m. For organizational reasons, this area is off limits to parents, relatives, and friends; we appreciate your understanding. Cap, gown, and tassel are the most required items for the day, but students are asked to dress appropriately: dark dress pants, collared shirts with ties, or dresses. Students may wear cords earned as part of their membership in our Honor Societies (as has been our custom). Students may wear one piece of additional pre-approved regalia, which they have earned as a member of an enduring MLWGS organization. All pieces of regalia will be distributed by sponsors in the days leading up to graduation.
Perhaps the most important clothing decision for the day, however, is shoes. Remember, you are walking up and down steps and across a long stage. Dress shoes with socks or low-heeled dress shoes are the most appropriate; "flip-flops" and athletic shoes are not permitted.
Doors to Altria Theater will open at 2:30 p.m. Guests should enter through the front doors and must have a ticket to attend graduation. Seating is not reserved. Handicap seating is available in multiple locations; please see one of the ushers at the door upon your arrival if you need this seating. Parking for graduation is available at the VCU parking deck for a minimal fee (entrances are on Cherry and Laurel Streets.) Please adhere to posted street parking signs as ticketing and towing are strictly enforced.
Graduation activities should conclude by 6:00 p.m.
---