IMPORTANT INFORMATION-REQUIRED FORMS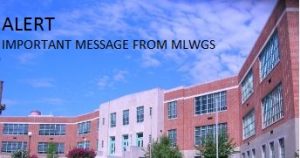 With summer coming to an end, there are a couple of things you can do ahead of time to get the school year off to a smooth start.
*MLWGS utilizes an online system for completing the school forms. You can find the online forms via the parent and student PowerSchool portals. After logging in, you will see a button for "e-collect forms" on the left-hand menu. Both parents AND students have forms to complete in PowerSchool, and they must be completed by Monday, September 10th. If you need any assistance with your PowerSchool login or have trouble submitting the forms, please email Mrs. Perez at mperez@gsgis.k12.va.us.
*Also, please encourage your student to complete the Student Handbook Test. This is required to grant students access to our network. Students are able to access a copy of the Student Handbook and a link to the test on the "Student Information" page of Itslearning. The instructions are as follows:
All new or modified areas of the handbook have been highlighted
They may access the handbook online while taking the test on Quia.com
The Secret Word is "Dragons"
Students should be sure to enter their names and their 7-digit student ID# when prompted
If a student does not know their ID#, it is always the student's graduation year, plus 3 numbers and is beside their name in PowerSchool
The test is to be completed online by 9/16/18 at 11 P.M.
If students have trouble accessing the handbook test, they can contact Mr. Smith
Remind students to submit the code of conduct form through the Student Portal on Powerschool by Monday 9/10/18.
---