Information for the Class of 2022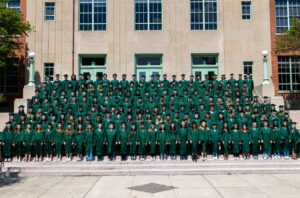 Senior Class picnic – 6/16/22 – 12:00 pm to 2:00 pm at the picnic shelters near the Carillon in Byrd Park (right next to Dogwood Dell and the dog park).
Baccalaureate – 6/16/22 – Reveille United Methodist Church, 4200 Cary Street, Richmond, 6:00 pm. to 7:00 pm. This is a PTSA-sponsored event.
Graduation Practice – 6/17/22 – STARTS AT 9:00 am (please arrive between 8:30-9:00 am) in the downstairs ballroom at Altria Theater (directions and parking information linked below). Practice is mandatory for all students who intend to walk for the ceremony. Do NOT park on the street…we will not have time to permit students to pop out to "feed the meter". If you park in the Main Street/Cherry Street deck BEFORE 9:00 am, you will not need to pay for parking. We should be finished by 10:30-11:00 am.
Graduation – 6/17/22 – Students MUST be back in the ballroom by 2:00 pm for the lineup. The outside doors to Altria will open between 2:00-2:15 pm and the doors to the main theater will be open for seating between 2:15-2:30 pm Handicap seating is available on all levels of the theater seating. Please ask an usher when you arrive for directions/assistance. Dresses/skirts and dress tops/dress pants/shirts and ties are all appropriate clothing choices for students to wear beneath the graduation robe. Don't forget your tassel, cap, and any honor cords! You may NOT decorate your cap! Be smart when selecting shoes for the occasion. Dress shoes are expected, but please remember that students will be walking up and down a carpeted incline, going up and down stairs, and walking across a hardwood stage. NO flip-flops will be permitted.
Parking Information for GRADUATION PRACTICE AND CEREMONY (includes directions, cost of parking, and how students access the ballroom/basement area of Altria Theater for practice and line-up). https://drive.google.com/file/d/1xCoIT1tyA7YrxjJKtMBRpjWgN1Hpcs-X/view?usp=sharing
Please email Ms. Sheppard if you have any questions/concerns: [email protected]
---