MLWGS Math Modeling Team wins as the only high school team in the nation at the SABR Conference, March 9-11, 2017 in Phoenix
http://sabr.org/latest/week-sabr-march-3-2017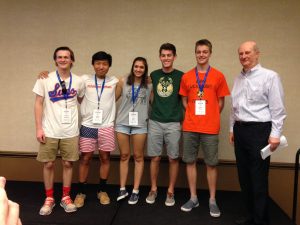 The SABR Diamond Dollars Case Competition pits undergraduate and graduate students from colleges and universities across the country against each other in an analytic major league baseball operations decision — the type of decision a team's general manager and staff is faced with over the course of a season.   The teams presented their analysis and recommendations to a panel of judges that included MLB front office executives on Thursday, March 9th in Phoenix.
Eighteen teams participated in this year's competition.  Students were asked to analyze next-level pitching data to create actionable results to be utilized by MLB executives.
The winning teams were Columbia University, Elon University, Washington University and Maggie L. Walker Governor's School.  Maggie Walker is the only high school team to participate in this year's competition.
Participating schools
Graduate/professional school division
University of Alabama-Manderson School of Business (Tuscaloosa, AL)
Columbia University-Masters in Sports Management Program (New York, NY)
Arizona State University (Tempe, AZ)
University of West Florida (Pensacola, FL)
Villanova University (Philadelphia, PA)
Ryerson University-Ted Rogers School of Management (Toronto, ON)
University of Massachusetts-Amherst, Isenberg School of Management (Amherst, MA)
Undergraduate division
Elon University (Elon, NC)
Cornell University (Ithaca, NY)
Washington University in St. Louis (St. Louis, MO)
NYU-SPS Tisch Institute (New York, NY)
Oklahoma State University (Stillwater, OK)
St. John Fisher College (Rochester, NY)
Maggie L. Walker Governor's School (Richmond, VA) representing VCU via dual enrollment
Syracuse University (Syracuse, NY)
Loyola University-Quinlan School of Business (Chicago, IL)
Maggie Walker's team was guided by faculty advisor Dickson Benesh, and comprised of students Preston Hausser, Robert Zhang, Julia Conte, John Blue and Pierce Tarry.
---