MLWGS presents: The Laramie Project, Streaming and On-Demand this Friday – Sunday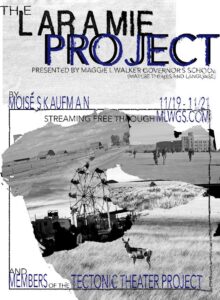 Maggie Walker Drama is proud to announce the premiere of our fall play, THE LARAMIE PROJECT. Based on the 1998 murder of Matthew Shepard, a gay 21-year-old student at the University of Wyoming, THE LARAMIE PROJECT is a powerful and sometimes painful examination of the forces that drove two Laramie residents to attack Matthew Shepard and the responses of the community where it happened.
Recorded on stage at MLWGS, the show will be streaming free and on-demand from Friday, November 19th through Sunday, November 21st. Just follow the link below:
https://www.broadwayondemand.com/series/j0pzo8s5AvzB-the-laramie-project–maggie-l-walker-governors-school?channel=watch-now
WARNING: The Laramie Project is not a play for younger children. It deals with the serious and factual subject matter in an open and potentially offensive manner. Characters use language that is frank and sometimes raw, including slurs and profanity, and audience members will experience descriptions of violence, discussions of sexuality, and pronouncements on religion. We believe that Maggie Walker students have demonstrated the maturity to be able to place this work in its historical context and use it as a springboard for meaningful discussions. If you or members of your family are not comfortable with this content, however, you may find it preferable to avoid viewing this production.
---