MLWGS Senior David Winters Wins 2019 Lexus of Richmond Leadership Award Scholarship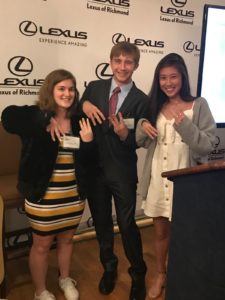 Pictured: Emily Callahan (Hanover-Week 16), David Winters (Hanover-Week 22) and Lisa Qin (Henrico-Week 1)
The Lexus of Richmond Leadership program celebrates RVA's most talented scholar-athletes who have been nominated by school officials from the high school they attend. Through their collaboration with Entercom, 1140 WRVA, Sports Radio 910, and Fox Richmond WRLH, Lexus of Richmond is able to present to the community 30 gifted nominees. At the end of the school year, all of the students, along with their parents and coaches, come together for an exciting banquet where the Lexus of Richmond Leadership Award Winner is named. That title comes with a $10,000 stipend.
Lexus of Richmond chose David Winters of Maggie L. Walker Governor's School, its 22nd weekly nominee, as the 2019 Leadership Award Scholarship recipient. With a current 4.69 GPA David is a member of the National Honor Society, Mu Alpha Theta, and the German Honor Society. He scored 1560 out of a possible 1600 on the SAT exam with a perfect score on the Math portion. Additionally, David scored a perfect 800 on both the Physics SAT II and the Math SAT II. Having earned 6 perfect scores on his AP exams, David is an AP Scholar with Distinction. He is a National Merit Scholarship Commended student, and he has received a Rensselaer Medal for his efforts in math and science. He has co-authored two scientific papers on spintronics. David is a team member for the High School Mathematical Contest in Modeling, and they were finalists in 2018. David is one of four Maggie Walker students to compete at the Society for American Baseball Research Diamond Dollars Case Competition. This involved a research project on the physics and statistics of baseball. In 2018 the team competed and won against college undergrads and graduate teams around the nation.
Source: Lexus of Richmond Blog
Lexus Weekly Leadership Award Page
Congratulations David!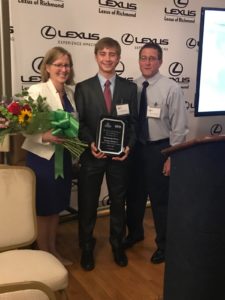 ---