MLWGS TSA Club at Technosphere State Competition, April 29-May 1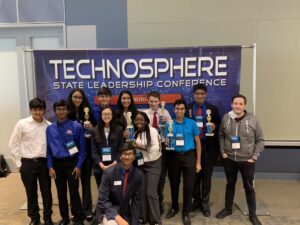 The team has been preparing for this competition for months and the results speak of their efforts. The dragons traveled last weekend to the Hampton Roads Convention Center for the Technosphere Competition. During this multi-day event, students compete in a wide variety of technology-related team and individual events against schools from across the state.
The participants were Aditya Badhrayan ('25-Henrico), Sreemayi Gangireddy ('25-Henrico), Kushal Gowda ('25-Henrico), Sutton Marks ('23-Hanover), Minh-Thu Nguyen ('22-Henrico), Rahmat Okegbenro ('25-Chesterfield), Imran Aly Rassiwalla ('24-Henrico), Anusha Rathi ('25-Henrico), Amogh Saunshimath ('25-Henrico), William Smith ('25-Henrico) and, Parth Tornekar ('24-Henrico).
TSA Officers are Isabella Lee-President ('22-Chesterfield), and Pooja Muthuraj-Vice President ('22-Henrico) assisted but were unable to attend. Mr. Zachary Zelenak is the club sponsor.
The club won the following awards: Anusha and Rahmat (team)–2nd Place for Fashion Design; Parth and Imran Aly (team)–2nd Place for Forensic Science; Sreemayi (individual)–2nd Place for Engineering CAD; Sutton and Imran Aly (team)–3rd Place for Data Science and Analytics; Parth and Imran Aly (team)–3rd Place for Debating Technological Issues; The following students were finalists in their events, meaning they placed in the top 10, but not the top 3: Rahmat, Anusha, Aditya, Amogh (team)–Biotechnology Design; Sreemayi, Sutton, Kushal (team)–Technology Bowl; Sutton (individual)–Engineering CAD; Aditya, Sutton, Imran Aly, Amogh (team)–Cybersecurity; Kushal, William (team)–Structural Engineering and Design; Aditya, Sreemayi (team)–Music Production (see note below) Overall, Maggie Walker placed 8th amongst all high schools in the state.
Top 3 finishers qualify for nationals at the end of June, but we will not be sending a delegation this year.
"This past weekend, eleven Maggie Walker students attended the Technology Student Association Technosphere, Virginia TSA's state competition," said Zelenak. "These students gave an excellent performance, scoring five podium placements and six additional finalist awards. As a team, Maggie Walker placed 8th in the state, and as the City of Richmond's sole representative, placed the school division 7th in the state. A special congratulations goes out to Kushal Gowda and Sreemayi Gangireddy, who will serve as Virginia TSA's Treasurer and Reporter, respectively, for the 2022-2023 school year. Kushal served this past year as Virginia TSA's Parliamentarian. These students gave a fantastic performance over the weekend, but are not the only ones who helped make this happen. TSA his been guided this year under the leadership of President Isabella Lee and Vice President Pooja Muthuraj. It should also be noted that, while Aditya and Sreemayi represented the music production team in person this weekend, Anup Sanjay, Isabella Lee, Nathan Lee, and Pooja Muthuraj also contributed to this competition entry. Please congratulate these students on all of their hard work the next time you see them!"
---