Mr. Merillat's Opus…Congratulations!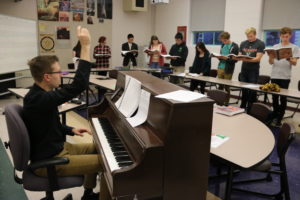 Maggie Walker jazz band teacher, Nickolas Merillat, was commissioned by the high school he attended to compose a piece for their Symphonic Band to commentate an important anniversary of the school. This is an honor for Nick and MLWGS to have a published composer as our orchestra director!
Ocean Lakes High School Jubilee was commissioned by Michael Parker for the 25th anniversary of Ocean Lakes High School. The world premiere took place at Ocean Lakes High School on Friday, November 16th. The piece was performed by 54 high school students and conducted by Michael Parker.
Each of the piece's four movements uses the Ocean Lakes Alma Mater as source material and is presented in four different styles.
*Inauguration Overture.
Inspired by Percy Grainger, the first movement was written in reflection of the opening of Ocean Lakes High School in 1994.
*Her Colors, Strong and Bold!
This movement, evoking the style of John Mackey, was inspired by the industrious culture of Ocean Lakes.
* We Lift Our Song in Honor
Influenced by the music of Joel Puckett, this movement is dedicated to students and faculty at Ocean Lakes who have passed away.
*Fanfare in Gold
Ocean Lakes' four colors are Blue, Silver, White, and Gold, and for me, the final color (always sung in unison at Ocean Lakes pep rallies) signifies the future. This movement takes cues from John Williams and Robert W. Smith and celebrates the next 25 years of success at Ocean Lakes High School.
Congratulations, Nick! You inspire your students every day.
---