MW Girls Indoor Track Takes the State Title for 5th Consecutive Year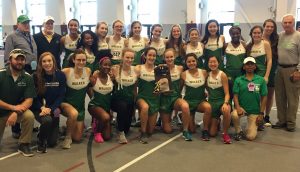 Congratulations!
Another state meet is in the books and the girls are coming home with another championship trophy. The senior girls are now one season away from winning every VHSL championship (Conference, Regional, and State) that they have competed in during their high school careers.
Sophomore Mary Caroline Heinen won both the mile and 2 miles.
Senior Morgan Ackley was the runner-up in the 1000 meter run
Senior Megan Lee was the runner-up in the 2 mile
Senior Taylor Hill was 3rd in the 55m dash.
For the second consecutive year, the boys finished 3rd. After a great first day, the boys ran into two teams that had perfect second days; however, there were plenty of breakthrough All-State performances.
Great job by our coaching team of Holdren, Snagg, Webb, and Disse.
---