MW Junior Perisa Ashar honored as a National Recipient of the NCWiT Award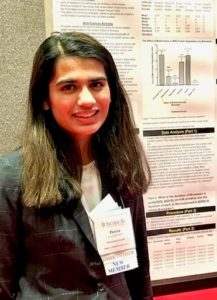 NCWIT proudly announced the 2020 NCWIT Award for Aspirations in Computing (AiC) national recipients, honoring four hundred high school women from all 50 states, the District of Columbia, Puerto Rico, the U.S. Virgin Islands, Guam, and all U.S. overseas military bases. We are proud to announce that Junior Perisa Ashar (Henrico) was honored as one of the national winners.
High school students who self-identify as a female in grades 9 through 12 are eligible to receive recognition for their aptitude and aspirations in technology and computing, as demonstrated by their computing experience, computing-related activities, leadership experience, tenacity in the face of barriers to access, and plans for post-secondary education. This year, 40 winners and 360 honorable mentions were selected from more than 4,700 amazing, talented young women.
Thanks to the generous support of NCWiT Award for AiC National Sponsor Bank of America, each of the 40 national award winners receives various prizes, cash, and a trip to Bank of America headquarters on March 6-8, 2020 for a celebration and networking with Bank of America employees. The entire NCWIT AiC program platform is supported generously by Apple.
"This is an incredible national honor that Perisa has more than earned through her work both here at MW and her personal research that she has conducted through a partnership at VCU," said teacher Ryan Webb.
For more information about this award visit: https://www.aspirations.org/blog/four-hundred-us-high-school-women-are-recognized-technological-achievements-1
---