MW students earn 59 awards at the 2018-2019 Regional Scholastic Art Competition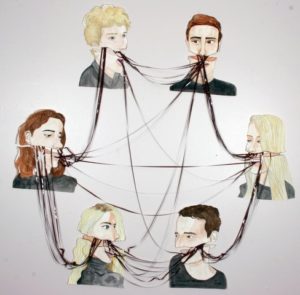 Emily Dai – 12th Grade – Gold Key, American Visions Nominee, Drawing and Illustrations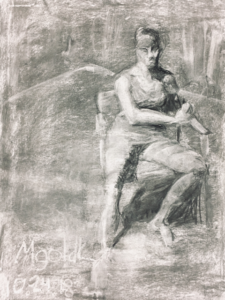 Max GoldKuhle – 11th grade – Gold Key – Drawing and illustration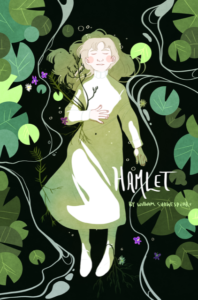 Lilly May – 12th grade – Silver Key Portfolio- Graphic Design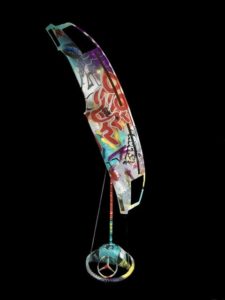 Marina Kapitanov – 11th grade – Silver Key Sculpture
We are very excited to announce that our talented students in the fine arts were recently honored again this year by having their work selected in the Scholastic Art competition. This is a highly competitive art competition with local jurying through our affiliate at the Visual Arts Center. MLWGS students had another great year of 59 total awards, recognizing Maggie Walker as one of the region's top schools for the Arts.
2018 – 2019 Scholastics Awards Summary – 59 Total awards
8 Gold Keys awards including
(1 American Visions Art Award, 4 Photo Gold Keys, 4 Art Gold Keys)
17 Silver Keys awards including 2 Silver Key Portfolio
(1 Silver Art Portfolio, 9 Photo Silver Keys, 8 Art Silver Keys)
34 Honorable Mentions including
(1 HM Photo Portfolio, 23 Photo HM, 10 Art HM)
A show of Gold and Silver Key works will be held at The Visual Arts Center of Richmond at 1812 West Main Street from February 16th- March 2nd. Honorable mention works will be projected. All are welcome to come to join the celebration!

A reception will be held for all award winners on February 23th between the hours of 1-4pm. A ceremony for Gold Key winners will be held at Binford Middle school (1701 Floyd Ave. located directly next to VisArts). We hope you will be able to attend.
Additionally, Gold Key winners' work will move on to the Alliance for Young Artist and Writers national adjudication process, where it will be eligible for further recognition and scholarship opportunities. Adjudication of Gold Key works will take place in New York City and award winners will be announced in March.
Please join us in congratulating the following MLWGS students and the Fine Arts staff for their success!
Portfolio and American Visions Art Award winners are in bold.

| | | | | | | |
| --- | --- | --- | --- | --- | --- | --- |
| First | Last | Grade | Teacher Last | Award | Category | Title |
| Emily | Dai | 12 | Hall | Gold Key | Drawing and Illustration | Garden of Eden |
| Max | Goldkuhle | 11 | Hall | Gold Key | Drawing and Illustration | Don't Be a Slouch |
| Shreya | Malani | 10 | Mosley | Gold Key | Drawing and Illustration | 1921 |
| Megan | Bale | 11 | Stinnett | Gold Key | Photography | Cut Out |
| Erica | Cummings | 12 | Stinnett | Gold Key | Photography | Strata |
| Lillian | May | 12 | Stinnett | Gold Key | Photography | Ladies |
| Mariah | Snelson | 11 | Stinnett | Gold Key | Photography | Facing Reverse |
| Emily | Dai | 12 | Hall | Gold Key, American Visions Nominee | Drawing and Illustration | Talking Heads |
| Lillian | May | 12 | Hall | Silver Key | Art Portfolio | Graphic Design |
| Max | Goldkuhle | 11 | Hall | Silver Key | Ceramics & Glass | Man's Conquest of Nature |
| Natalie | Kim | 11 | Mosley | Silver Key | Digital Art | Bug Eyed |
| Riley | DeWitt | 10 | Mosley | Silver Key | Drawing and Illustration | A Colorful Still |
| Helen | Hall | 10 | Mosley | Silver Key | Drawing and Illustration | Self portrait After Coffee |
| Julia | Park | 12 | Hall | Silver Key | Film & Animation | Shaving by the River, A Performance |
| Megan | Bale | 11 | Stinnett | Silver Key | Photography | Robious Walk |
| Avery | Bowers | 11 | Stinnett | Silver Key | Photography | Foliage Caught the Light |
| Adeline | Cullen | 11 | Stinnett | Silver Key | Photography | Earning the Halo |
| Clint | Graviet | 11 | Stinnett | Silver Key | Photography | Stygian Starlight |
| Tamia | Ingram | 12 | Stinnett | Silver Key | Photography | The Reach |
| Lawrence | Jia | 12 | Stinnett | Silver Key | Photography | Segments |
| Lawrence | Jia | 12 | Stinnett | Silver Key | Photography | Petals |
| Meredith | Peters | 11 | Stinnett | Silver Key | Photography | Discard Here |
| Meredith | Peters | 11 | Stinnett | Silver Key | Photography | Fly Falcon, Fly |
| Marina | Kapitanov | 10 | Hall | Silver Key | Sculpture | 560 sec |
| Julia | Park | 12 | Hall | Silver Key | Sculpture | Commodities of Yore |
| Yumna | Rahman | 12 | Stinnett | xHonorable Mention | Photography Portfolio | Dimmed Luminance |
| Pallavi | Natarajan | 11 | McNeil | xHonorable Mention | Ceramics & Glass | The Elephant |
| Rylan | Karjane | 10 | Mosley | xHonorable Mention | Comic Art | Bad Joke |
| Nhu | Le | 10 | Mosley | xHonorable Mention | Comic Art | Super Space Donut |
| Lillian | May | 12 | Hall | xHonorable Mention | Comic Art | The Princess on the Knoll |
| Lillian | May | 12 | Hall | xHonorable Mention | Drawing and Illustration | Hamlet |
| Renny | McFadin | 11 | Hall | xHonorable Mention | Mixed Media | Eyes! Eyes? Eyes. |
| Molly | Goodman | 12 | Hall | xHonorable Mention | Painting | Solo I |
| Mia | Rodriguez | 11 | Hall | xHonorable Mention | Painting | Last one Standing |
| Mia | Rodriguez | 11 | Hall | xHonorable Mention | Painting | The Spot |
| Mia | Blyseth | 12 | Stinnett | xHonorable Mention | Photography | Pollinator |
| Mia | Blyseth | 12 | Stinnett | xHonorable Mention | Photography | The Spot |
| Emily | Callahan | 12 | Stinnett | xHonorable Mention | Photography | An Emergence of Wings |
| Corbette | Condit-Fox | 12 | Stinnett | xHonorable Mention | Photography | Glow |
| Corbette | Condit-Fox | 12 | Stinnett | xHonorable Mention | Photography | Ripples |
| Erica | Cummings | 12 | Stinnett | xHonorable Mention | Photography | Rising |
| Emily | Dai | 12 | Stinnett | xHonorable Mention | Photography | Face to Face |
| Emily | Dai | 12 | Stinnett | xHonorable Mention | Photography | Montage |
| Nicolas | Ferree | 12 | Stinnett | xHonorable Mention | Photography | All the Pretty Faces |
| Nicolas | Ferree | 12 | Stinnett | xHonorable Mention | Photography | The Old and the New |
| Jack | Honig | 11 | Stinnett | xHonorable Mention | Photography | Corkscrew on Ground |
| Lawrence | Jia | 12 | Stinnett | xHonorable Mention | Photography | Spirals in the Grass |
| Natalie | Kim | 11 | Mosley | xHonorable Mention | Photography | All That Remains |
| Jacob | Lee | 10 | Stinnett | xHonorable Mention | Photography | Dancing in the Light |
| Pallavi | Natarajan | 11 | Stinnett | xHonorable Mention | Photography | Through the Hoop |
| Alicen | Potts | 12 | Stinnett | xHonorable Mention | Photography | Dream |
| Maya | Qureshi | 12 | Stinnett | xHonorable Mention | Photography | On the Razor |
| Yumna | Rahman | 12 | Stinnett | xHonorable Mention | Photography | Dirty Panes |
| Yumna | Rahman | 12 | Stinnett | xHonorable Mention | Photography | Opening or Closing? |
| Yumna | Rahman | 12 | Stinnett | xHonorable Mention | Photography | Count the Curves |
| Lola | Sneddon | 11 | Stinnett | xHonorable Mention | Photography | Ladder |
| Annabel | Tripodi | 12 | Stinnett | xHonorable Mention | Photography | A Melting Treasure |
| Katy | Werwath | 12 | Stinnett | xHonorable Mention | Photography | Compartments |
| Eileen | Morley | 11 | Hall | xHonorable Mention | Printmaking | Which comes first? |
---