MW wins back-to-back SABR Analytics Competition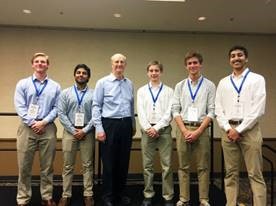 The SABR Analytics Diamond Dollars Case Competition pits students from colleges across the country against each other in an analytic major league baseball operations decision — the type of decision a team's general manager and staff face over the course of a season. The teams presented their analysis and recommendations to a panel of judges that included MLB front office executives on Friday, March 9, in Phoenix, AZ.
In this year's competition, twenty-three teams were asked to evaluate the relationship between launch angle and exit velocity of batted balls. The winning MLWGS team created their own metric (RAP – Runs Added per Play) which they used in a simulation that they ran thousands of times in Python. The competition divided teams into four divisions, and the Maggie Walker team took first place in their division, defeating teams from Cal Poly – San Luis Obispo, NYU, University of Alabama, and St. John Fisher.
By winning the college-level SABR Analytics Competition again this year, MLWGS – still the only high school ever to compete in this program – is now the first school to boast winning teams in back-to-back years. Only one other school (NYU) has equaled the feat of winning twice. Our winning team consists of Matthew Haines ('18), Aditya Kannoth ('18), David Winters ('19), Reid Jesselson ('18), and Yug Rao ('18).
Congratulations to Mr. Benesh, team sponsor, for your dedication to this program.
---