Presenting the 2021 3B VHSL XC State Champions!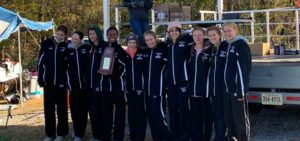 Congratulations to the MLWGS Girls Cross-Country (XC) Track team as the 2021 VHSL 3B State Champions! The team had an impressive run last Saturday at Green Hill Park in Salem, VA.
Pictured left to right: Izzy List, Kathryn Streeter, Brenna Luczak, Alexis Bartee (Captain), Ally Phillips, Catherine Garrison (All-State 5th Place), Gray Pershing (All-State 8th Place), Avery Crumlish (Captain), Riley Surratt, and Caroline Osenga.
The team is coached by Jim Holdren, Ryan Webb, and Deborah Snagg.
Athletic training services are provided by @vcuhealth
---