Show Support for MLWGS Junior Selected as Snow Queen 2020 Candidate. Public Voting November 29-December 24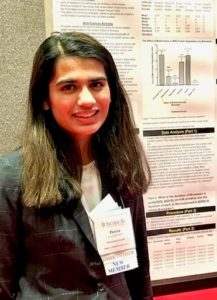 Maggie L. Walker Governor's Schools' Perisa Ashar ('21-Henrico), has been selected as one of the top three Snow Queen 2020 candidates and is now a finalist competing for the award of Snow Queen 2020, sponsored by the Children's Museum of Virginia. Each year, the Snow Queen Award is open to qualified applicants from area schools based on academics, leadership, extra-curricular activities, service, and volunteer work within their community, and to those who have inspired children to learn.
Perisa has been doing science research for the last 5 years and is passionate about pursuing a career in the field. She has won accolades and prizes at Regional competitions and the Virginia State Science Fair and the International Science Engineering Fair (ISEF). She was also one of two American students of the ISEF finalists (from approximately 1,100) who won a Special Prize at ISEF 2019, and will visit the Taiwan International Science Center in February 2020 to present her research. She has done various workshops and sessions for children to learn STEM and has a zest for inspiring them to pursue their passions and interests with "Learn through Play." In addition, Perisa has won awards at Regional and State History Day competitions and advanced and presented at the National History Day competition in May 2019. She is a passionate advocate for STEM and equality and has worked closely with the Richmond Peace Education Center, MathScience Innovation Center, and has also started a non-profit organization, STEMinate (which works to develop STEM opportunities to students in underdeveloped communities).
Perisa is the only Dragon student competing in this contest at this stage. The final stage of selection for Snow Queen 2020 is based on public voting from November 29 to December 24. You can learn more about Perisa at the following link. MLWGS community can support Perisa Ashar to become the Snow Queen 2020 by voting for her at the following link and share it with your friends and family. You can vote daily until December 24.
https://www.childrensmuseumofrichmond.org/full-menu/snow-queen-scholarship/vote-snow-queen/perisa-ashar/
---