The General Assembly has designated March 14 as a Day of Honor for the Marquis de Lafayette in Virginia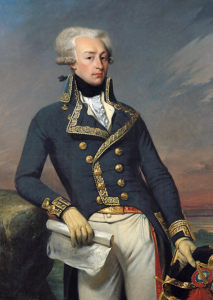 Cr: Wikipedia
Lafayette and the Virginia Campaign 1781
House Joint Resolution 797, Designating March 14, in 2015 and in Each Succeeding Year, as a Day of Honor for the Marquis de Lafayette in Virginia.
On March 14, 1781, 23-year-old Major General Marquis de Lafayette landed at Yorktown, Virginia, to begin a campaign against the British General Cornwallis that would culminate in the British defeat six months later. Lafayette's transatlantic journey back to the colonies in the L'Hermione, a French frigate, came with the pledge of French support. Lafayette advanced the American cause in France, obtaining pledges of support from King Louis XVI of the French Fleet and 6,000 regular infantry troops. The involvement of France changed the course of the war.
A wreath is laid each year at the bust of Lafayette in the Rotunda of the Capitol. The public is invited.
All Virginians, especially its students, are encouraged to reflect on and learn from Lafayette's example of heroism, courage, and commitment to freedom and democracy.
---