The Mech Tech Dragons are District Champions for the first time in 19 Seasons!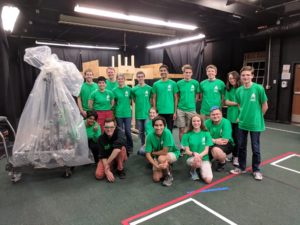 The Mech Tech Dragons had tough qualifying matches on Friday and Saturday (March 30 & 31) and as a result, the team fell to 11th place. The competition was very close Friday and Saturday as many teams faced tough competition and match losses resulted in teams falling as many as 10 places in rank or more. Team 422 (the Mech Tech Dragons) was just outside the opportunity to be an alliance captain. Sparky 385 from Tucker High School was in 10th place after qualification matches and with several higher-ranked teams being selected for alliances ended up being the 8th alliance captain(out of 8). Sparky 385 selected ILITE Robotics Team 1885 from Battlefield HS in Haymarket, VA and The Mech Tech Dragons for their alliance.
The alliance faced the Top seeded alliance in the first round of eliminations that included an undefeated Team 1731 – Fresta Valley Robotics from Mashall, VA and beat them in the first match 342 to 335 and in the second match won 411-275.
In the semifinals, the alliance faced the 4th seeded alliance lead by Team 5546 – A.R.T. from Appomattox Regional Governor's School in Petersburg. However, the 4th seeded alliance fell in two matches to the 8th seed, 354-264, and 344-299.
On to the finals and our Alliance faced the 6th seeded alliance lead by Torch -Team 5804 from Collegiate High School. The 6th seeded alliance lost in two matches (436-221 and 423-202) to the 8th seeded alliance.
So… The Mech Tech Dragons are District Champions for the first time in 19 seasons. (You can find results here https://www.thebluealliance.com/event/2018chcmp#results) This is another first for our team and sponsor, Mark Sailer, is extremely excited about the future of the team. This also means that the team has qualified for FIRST Championships in Detroit April 25-28.
---