VA Association for the Gifted – Outstanding Student Award Nominations Due April 12th
2018-2019 Outstanding Student Award Secondary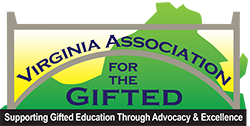 Nomination Procedure:
The Virginia Association for the Gifted will accept self-nominations and nominations from parents, teachers, students and community and civic groups.
Nominations must be submitted on or before April 12, 2019
Eligibility Criteria:
Students must be in grades 6 – 12 at the time of nomination.
Outstanding student accomplishment may be in the area of academics, the arts, or leadership.
Submission to the Virginia Association for the Gifted:
A composition written by the student nominee. Compositions should describe (a) the activity or interest area for which the student is being nominated; (b) how the student got interested/involved in the activity; (c) what impact the activity has had on the student and on others; (d) how well does the interest or activity fulfill a need or solve a problem; and (e) how the student's future plans and goals have been affected by this activity or interest area;
A completed online application;
A letter of recommendation, from someone other than a nominee's family member, explaining why the student nominee is deserving of the award, what sets him/her apart from other students, and how the nominee is impacting others;
A signed release form from a parent or guardian granting permission to Virginia Association for the Gifted to use the nominee's name, composition, and photo, in award publicity and announcements, should he or she be selected; and
A photo (preferably school photo) in a sealed envelope with name (to be used in award publicity in the event the student is selected for the award).
Selection Procedure:
A selection committee will review the applications and make awards based on merit. (Virginia Association for the Gifted reserves the right not to make an award if the selection committee determines that the submissions do not meet the stated criteria.)
All applicants will be notified in writing by May 15.
The award winner will receive a certificate and a $250.00 check (with the recommendation to invest it in a college savings plan) and will be invited to the general session of the Virginia Association for the Gifted fall conference or seminar.
Use this link for application access.
---